Not really anything exciting to post again, I just feel like blabbering some, had an odd week, not much of anything though, so whatever...
First I wanted to show the pretty yarns I got a few weeks ago.
Knitpicks merino sweetpeas, paint your own, three yellows from the pallette line and a box of DMC #80 cotton for Princess.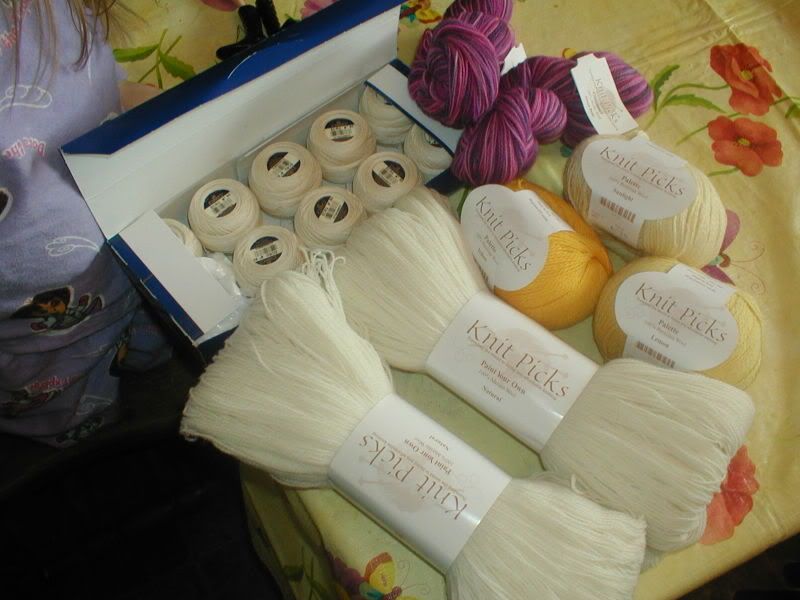 I started two Pi shawls in the mystery Pi KAL, one is using the sweetpeas yarn the other I dyed the paint your own.
This is the sweet peas at clue two.
This is the paint your own at clue two.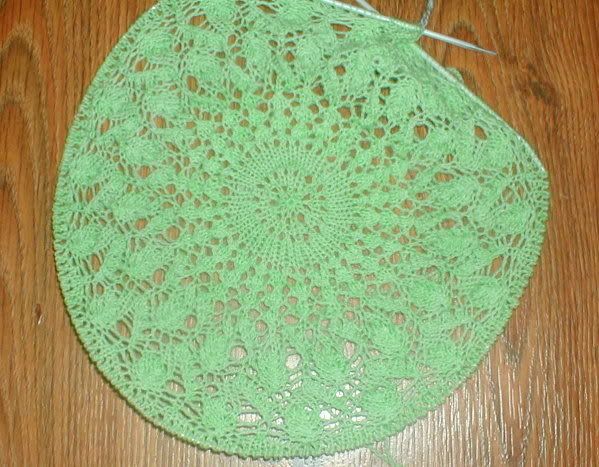 The green is being knit on 3mm needles, the purple on 3.75. Here is a comparison piccie of the two together, there is going to be a good difference in size when finished.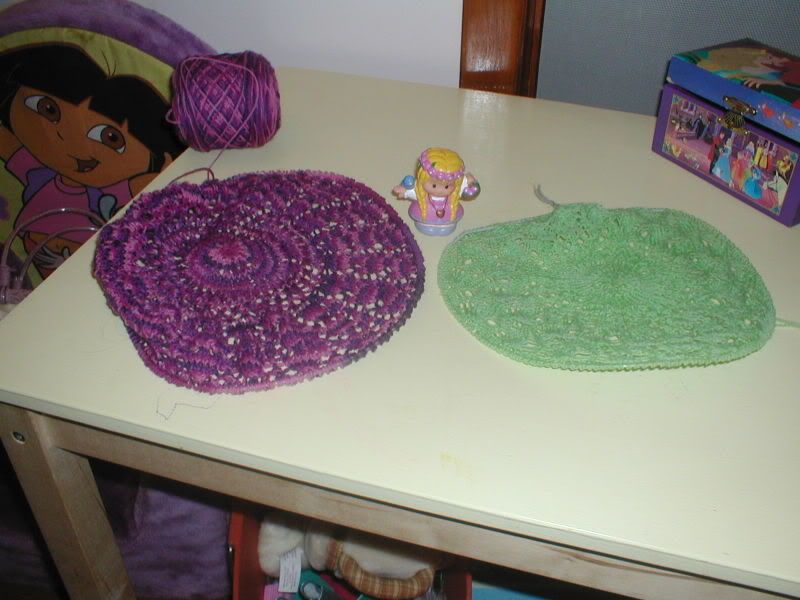 Finally a picture of the Princess shawl, here is a close up of a pattern repeat, there is eleven repeats, it's going to be big!
I still haven't got around to blocking Daffodil, but it has to get done by next wednesday.
Pictures coming soon.
I am almost, like 15 rows, done my socks, I can't wait to finish them.
Last week I popped up to gemini fibres in Mount Albert Ontario. What a lovely shop, I so enjoyed my trip up there. Bought some bits and pieces, but most importantly I got The opinionated knitter by EZ.
I finally got around to sitting down and looking through the book yesterday. I started my first surprise baby jacket yesterday, and today it will be finished. I have no doubt I will start another one very soon. I love so much in the book, I am sure I will make many things over and over again from the book. Well worth the money.
Well, it's getting close to dinner time, so I guess I should make some.
More later, the next clue on the mystery KAL is out late tonight/early tomorrow, so I will be busy knitting for the next few days, don't expect to hear anything from me!