Wannietta came to our spinners guild last week. I t was so great to finally meet her. She is as bubbly as she appears on her blog, she is as into knitting as you would expect, she is also a very nice person, and can knit like a devil........
I felt insanely slow knitting next to her, I can't imagine how one could get any faster than that.
Her talk about the speed competition was great, I would like to go to the Creative Festival now this year just to see the speed knitting.
I may well have to teach a bit of spinning to Wannietta too, this is cool, I love to share spinning with people, while I am no expert (nowhere close) just a spin to knit kinda person actually, I really enjoy the feeling of creating my own yarn. It gives me an opportunity to meet Wannietta again too, which I suspect could be a lot more fun than the meeting at the guild where we didn't get much opportunity to talk.
I did see a bit of a secret project, and what I saw I liked, but it wasn't enough to give away anything, so I too have to wait!
I finally finished my Fair isle cardi, it dressed out nicely, but needs a bit of a firmer dressing in the sleeves, which I suspect I may have to alter before I am totally happy.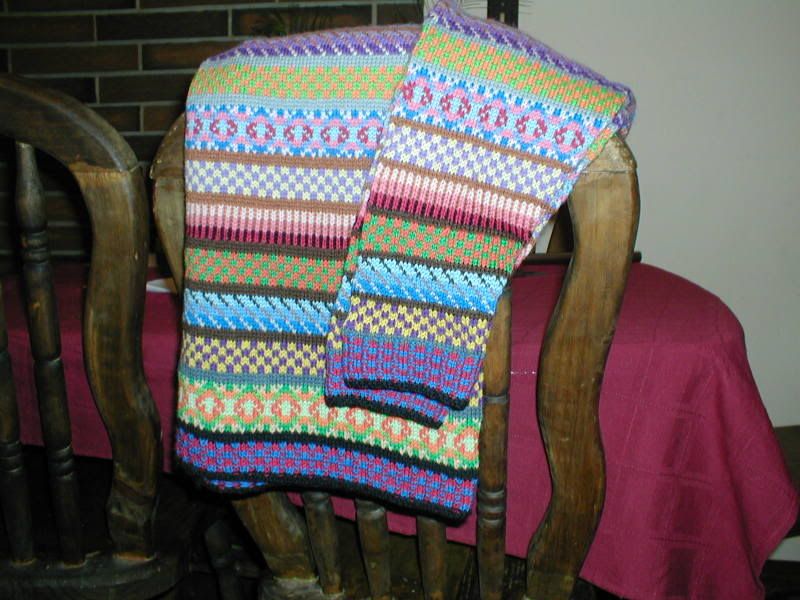 I wound some balls of the cobweb silk I have ready to knit the wedding ring shawl from Heirloom knitting, it took almost 45 minutes to wind these two little balls, thats a lot of yarn in those two little bundles. I am busting a gut to start the shawl but desperately want to finish the Princess before I start another huge project, so Princess has been dragged out, kicking and screaming, to the top of the lace basket, which is currently quite full.
I just couldn't let go of wanting to start a new lace project, so I started another simply stunning project, the Jade shawl in yellow, it is looking good so far, so this is project three on the needles of Heirloom knittings. Yet I still kept going back to the wedding ring shawl, wanting to start, I got as far as checking needle sizes, I found my 2.25 mm needles after a bit of hunting, they are in my Unst stole! That's project 4 of HK's designs..... I should finish at least one before I put the big project onto the needles, it will be hard. I have a birthday coming up, and was sure I was going to order the Cora shawl kit as a pressie to myself, but here's the bitch, it's another HK design, and while I obviously adore her designs, I also just as obviously have issues with finishing them. While I have finished lots of them having 4 on the needle right now isn't sitting too well with me.
Here is some Princess progress, and a kind of marker for me to see how much I do in months to come.