Yeah, I know, I haven't posted in a long time, big surprise, for all the promises I make to myself to post more often, it is shameful.
I have been awfully busy knitting though, I spent a week solid working solely on the Princess, with much to show for it. That was a trying time though as my circular needle fell apart as I had about 600 stitches loaded onto the side that broke. New needle is apparently in the mail, but two weeks already come on, Canada post may be slow sometimes, but I have received things in less than 24 hours.
My needles I am working on now are long 2mm Phildar needles, it took me forever to remember who made them, I have issues with them too, the powder coating is rubbing off, and leaving a greying on the fabric. I don't think it's the coating thats doing it now, just a gradual degrading of the metal. Funnily enough it is only one tip that is doing this. I may well have to contact Phildar too, but I can't return any needles to them until Knitpicks gets my new needle to me, I shall call them monday if it isn't in the mail box by then.
I almost gave up on the Princess, I was beginning to think this project was doomed, but after a conversation with Sharon Miller about boiling *shudder* the shawl after it's finished I feel much better.
Here is the needle point.
Here is the greying.
That nice creamy line in there is all I got knit on the knitpicks circ before it broke.
And here is me fixing the result of the break.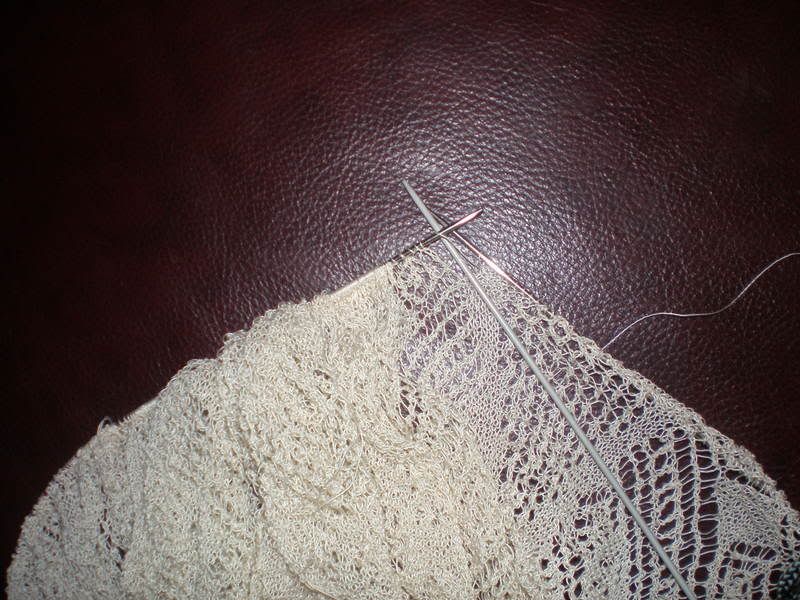 A nice picture of some progress, again until I get my new circular I won't be able to get another shot like this, and I have done quite a bit more on her since this was taken.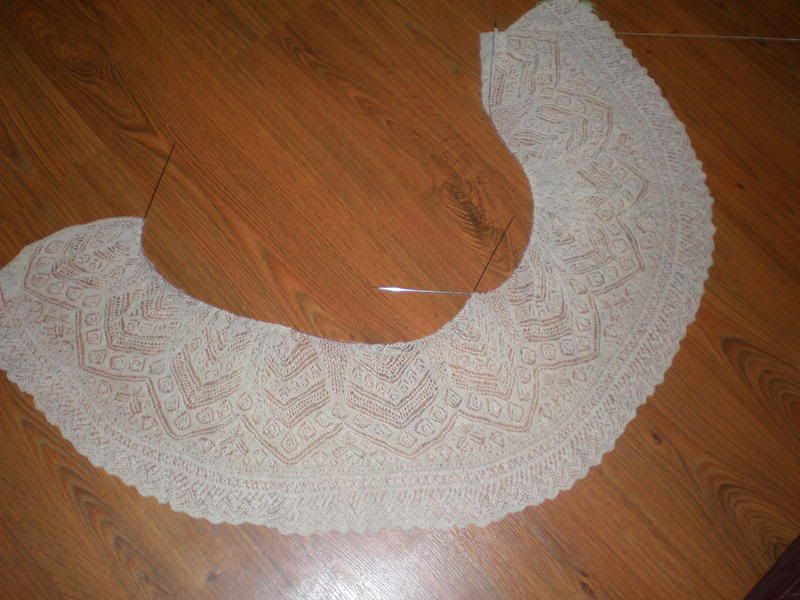 Finally some progress on Ron's gansey, the workshop has now ended and I have got one pin cushion done, a cushion cover in the works, Ron's gansey the back is now actually finished, and a hat planned.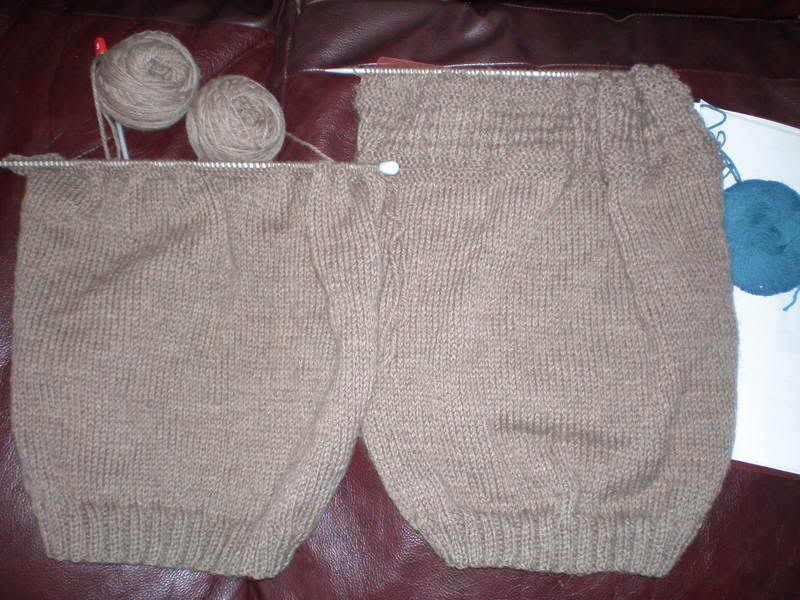 I will post again soon, hopefully with a Princess shot up to date as I am now back at working on her, I took a week break in between to do some little things, in the hope that the needle would arrive, I did a bit of modular knitting in that week, I have never really done much, just a little entrelac. I made two scarfs, one using up the ends of two balls of sock yarn, that is for Katherine, and Elizabeth got another one. I made a hat, a really nice one, and started on a pair of nordic mittens and Eunny's Entrelac socks from Interweave knits latest issue, the mitts are from an older issue.
Anyway, I will do another post later about that stuff, I still have to round up all the stuff as it's kids knits it disappears pretty quickly.
More spinning and weaving for sure, but the focus has definitely been on knitting. I did get more yarn spun up to knit Ron's Estonian mittens, they have been on the needles for way to long.
In traveling news, it looks like my plans for a vaca this year may well be off for good.
Ron has been offered a position on the "A" team at work, he works for Magna. We spent a year in Mexico and a year in America with Magna, and now it looks like they have finally cottoned on to how good a guy Ron is to have around. They sent him to the states twice last year to do fixes at Ford, and were pleased with the outcome. So pleased I guess that he has now been offered this position. Essentially the "A" team travel around the world doing quick fixes for the company, Ron has worked on many different types of tooling now so has the experience and skill they need.
My only hope of the holiday I so badly want is if they send him to the UK to any of the plants there. Of course the stars and planets all have to align correctly for that to fall into place.
Well it's a nice cold crisp sunny day here in the frozen tundra that is Canada, I should go and knit.
Hasta Mañana