I may well have been busy, but does that really mean I couldn't have blogged quickly in a month, shame on me.
I have been busy though, and I don't have many pictures to prove it.
DH has been getting allergies up the wazoo, one of his reactions we were very concerned about and he ended up at the hospital, got prednizone, and epipens amongst other things. The search for the culprit continues, although he does think it might be the Kevlar gloves he wears at work.
I have of course been busy knitting. I finished Daffodil a long time ago, but here, finally is a piccie of it blocked!!!!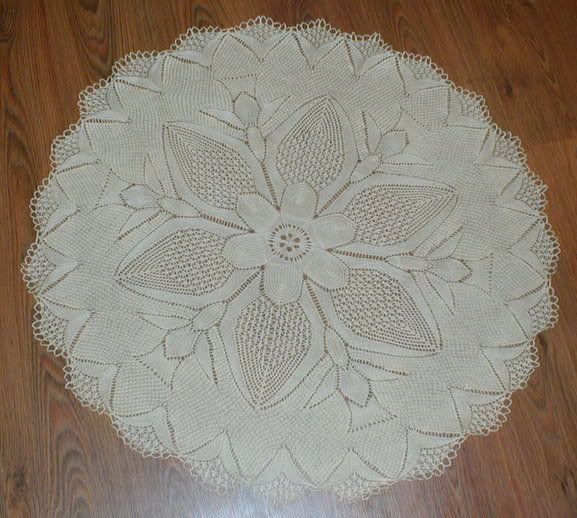 I have been plugging away furiously on both of my Pi shawls, which are notoriously bad for photographing in the state they are at right now, which is exactly when I would want to photograph them. So here is one attempt.
I haven't actually worked much on the Pi's since the 14th, that is when all my wool arrived from knitpicks. The wool is for
this
I also found a nice little basket in Loblaws the other day, I had actually seen them before, and quite liked the look of them, all the time thinking what a nice knitting basket.
I had decided to get one on saturday only to discover that they were all gone. Bummer. So off I went on my merry way, randomly filling up my shopping cart, when what do I see in the clearance bins, my basket!!! Sure, it's got a handle missing, I was planning on cutting the handles off anyway, but it was reduced, which was a big bonus, it was $3.99 from $6.99 only I am sure it was actually $14.99 last week.
Anyway, it fits all the pallette yarn colours in quite nicely.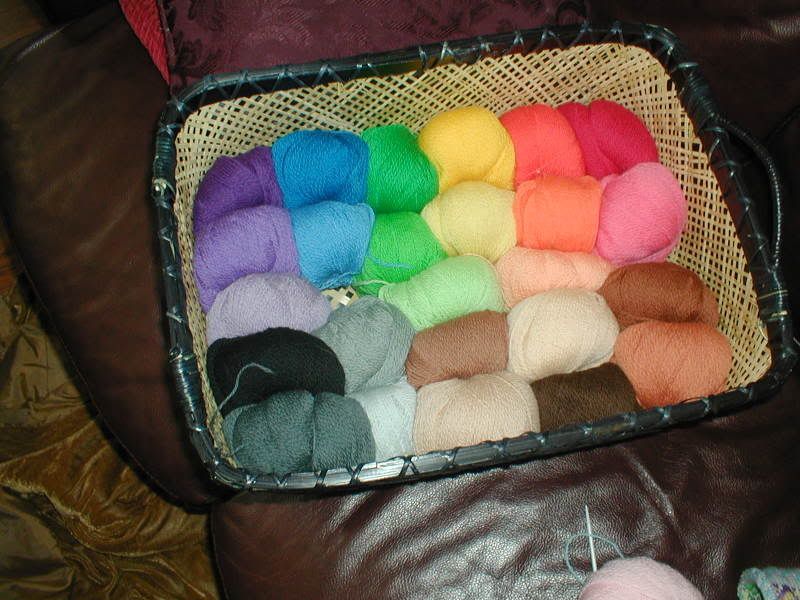 Here is where I got to with the cardi anyway.
It is sewn up ready to be cut at both sleeves and the front. Don't ask about the photo, for some reason photobucket is playing silly buggers.
One sleeve is now cut and the sleeve is in progress.
I also had a craving to make some little socks the other day, so I went yarn shopping and came back with this.
Some yarn to make a top and some socks for the wee one! Of course the moment passed once the yarn was home, I am sure it will appear again soon.
I forgot one more picture. This is from the fireworks that we had last night on may 2-4.
Victoria day
for those unaware of the significance of the holiday here in Canada.
We had visitors up from the US. Frank and Jeff are visiting canada every few weeks for work related training, they are in Milton, so not far from us, DH met both in Maryland when we lived there, they worked for the same company, He has maintained a friendship with Frank ever since, and they go to the Mopar Nats yearly together. We don't get many visitors, so the kids get all wound up when we do, they were just here for the night, having to return to Milton for schooling!
They went and bought a box of fireworks as we had missed the big fireworks display the day before.
The box of about 15 fireworks of course cost a small fortune, but was worth it. Katherine got scared so we got earmuffs for her, actually it was my range ear protectors. I carried her down the stairs of the deck, missed the last step, and of course in the nature of trying to protect my young, fell, onto my knees, and the little one got away scratch free. My knees are sore. Skin is completely off one of them. I swear men don't take these kinds of bumps for their kids.
Anyway, the photo, I tried but the delay on the digital is way too slow, so I missed most of them, got a few trails of one, and this one, I think it looks like a light bulb exploding.