Well over due for a photographic update. So here it is.
First up is the tee I made for Baby doll.
I have had lots of trouble with the neck, I just can't seem to get the front neck nice, it puckered on my first attempt at crocheting, the neck was way too loose so needed some adjusting. I undid the first attempt and tried again, it looked much better, but was still too loose, so I have added another two rows of single crochet around it with some decreasing. Baby doll has yet to try on this attempt. More on this later....
Next, the estonian garden stole, what a beautiful stole this is going to be. this photo is of the centre completed, which was about 65% done, I am now at 75% done, which means I have finally worked some nupps! Oh what fun! NOT! Urghh, they may as well be freakin bobbles. I hate bobbles, and despite my better judgement I decided to try the nupps, knowing full well I would hate making them as much as bobbles. Ok, so the result is a lot nicer than a bobble, and I can see the appeal in them, and I am so glad I chose this instead of
this
as my first attempt at nupps.
One thing, if you ever decide to make anything with nupps on it, a) make the nupp loose, and 2) make sure them needles are pointy.
OK, just going to get a photo of the nupps.......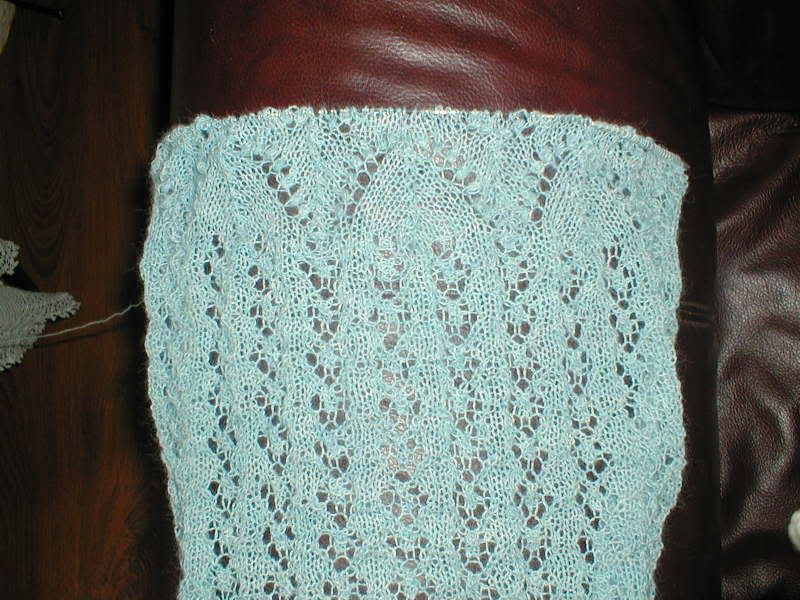 Ok, finally, the peacock. Here is a picture from the early days, just in the very early stages still, back when it was easy to work a row, when there was just a few stitches per row.
That all seems so long ago.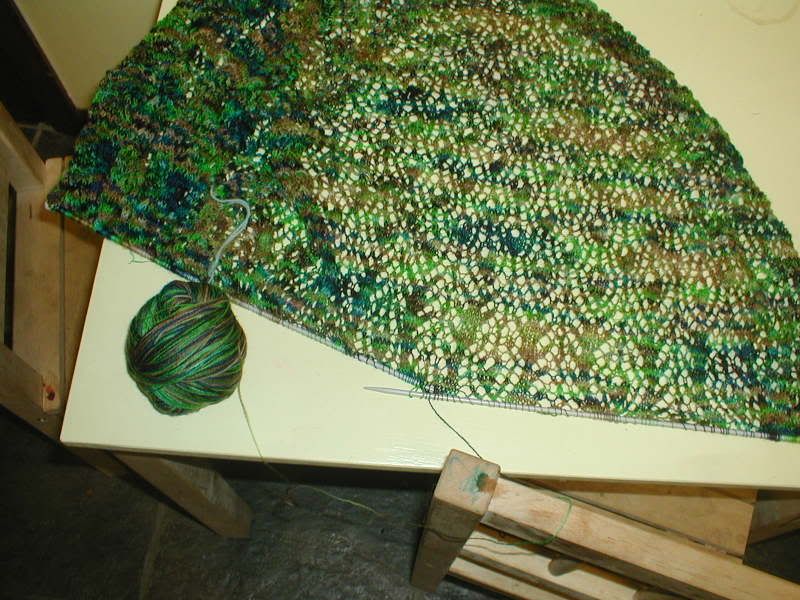 Peacock is now at about 62% done, I know I fell behind a little with it, but will soon catch up. I was worrying about the colour, but the picture looks pretty good so far, it's hard to tell exactly how it will turn out, blocking may take away the look, or it could make it look even nicer, hard to say, either way I still love it, and if the colour is horrid, then I can just over dye it.
Ron and the girls spent a day out at our property in Mosport on Sunday which left me with a lot of time to watch football and F1, England of course won, yay England. Another few days to there next match, can't wait. The F1 was in Montreal last weekend, Jacques Villeneuve as usual didn't do very well, going out in the final few laps. Oh well, DC didn't do well either. Alonso won though, and that's really what matters as I want him to win again this year.
Ron bought an old truck for bombing around the property, he loved being able to get around in there, it's 5 parcels of 10 acres, 2 of the lots are ours, the other three are his brothers and sisters.
My mom and sister are going to be blessing me with their company this year, so I will be ordering some yarn from the UK for them to bring over to me. First on my list is rowan kildsilk haze, one of the night shades, Medici, I will be making the green moss shawl from Simply stunning for my sister, my mom, given free choice on the heirloom knitting site, picked the same thing as my sister, so I have two green moss shawls to make. The only time I have made the same thing twice was the Creatures of the reef shawl from fiddlesticks, I made one for myself, and my mom loved it so much she wanted one too, same colour. This time however she doesn't want the same colour, thank god. In fact she doesn't even want it in mohair, she would like a silvery grey, anything but fluffy shawl, so now the hunt begins for the perfect yarn for this. Any ideas anyone???
I had thought maybe if Misti Alpaca has a silvery grey colour that would be ok, but that is slightly fluffy too. Maybe I need a trip out to a yarn store.... Mary's in unionville, I love that store. Mary is so nice and friendly, I have only been there once, but Mary seemed like an old friend. Must go there more often.
I could spin something for the shawl, but again, a matter of finding the right fleece.
One more thing for now anyway, this is turning into a marathon post.
Our resident fat cat sleeps in the oddest positions,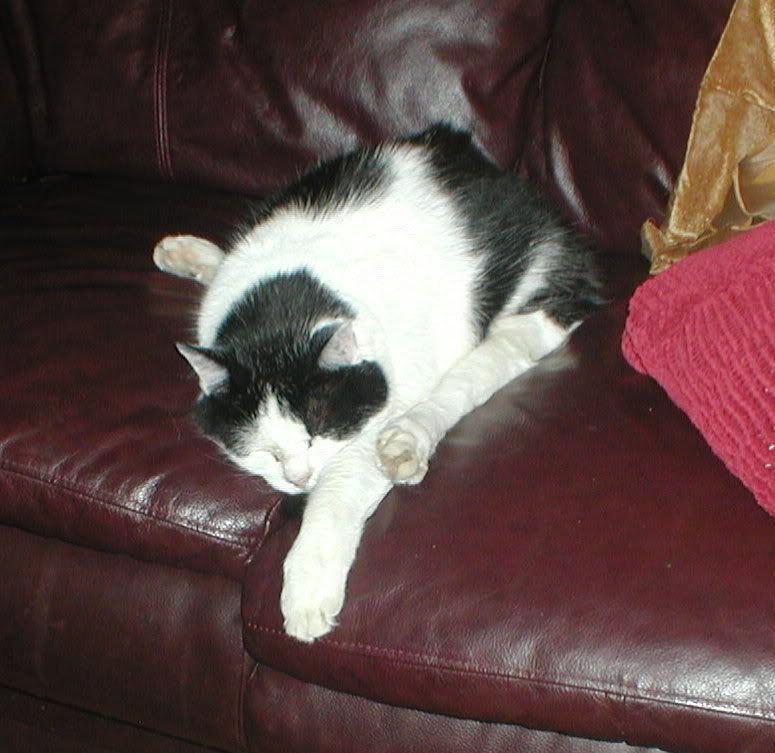 In this piccie she is doubled over, legs akimbo, what a strange cat, she regularly sleeps in the same postition. This one from last night had me running for the camera, which is now going to be perched on the table to get the latest wacky way to sleep courtesy of Maggie Moo.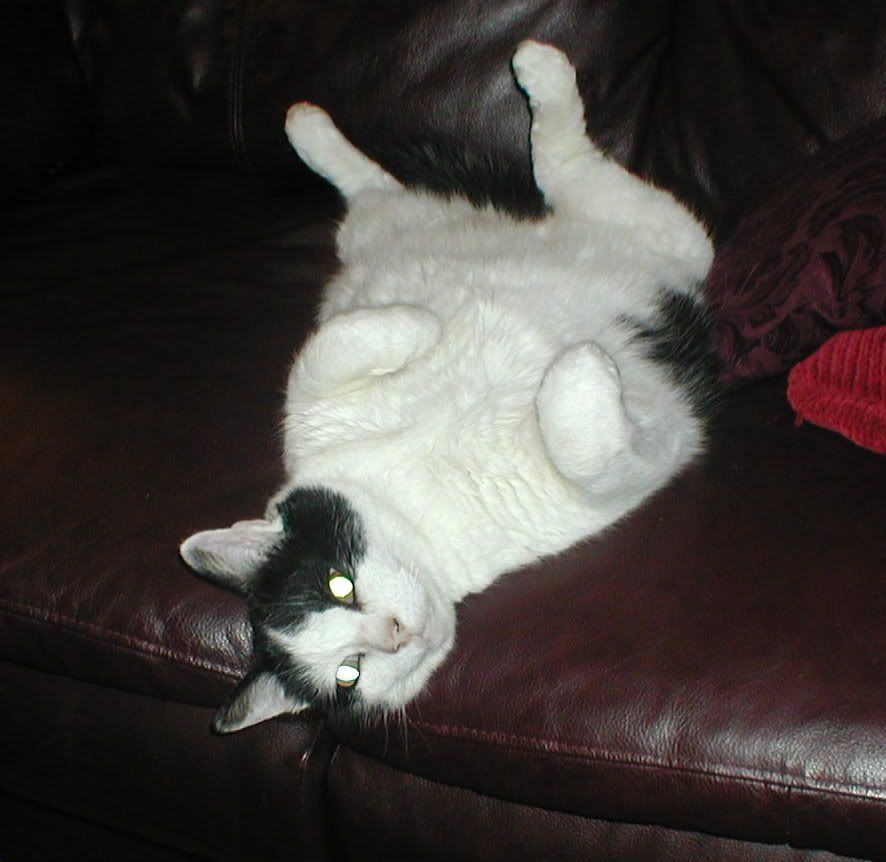 Mini, my first baby kitty has never been featured here , so I thought I should get a shot of her up, well getting a shot of her to begin with is nigh on impossible, she is one of the aloof kitties, you know the type, real regal snootiness, until she spots a paper ball, then it's baby kitty time.
She did add a helping hand on the first peacock photo though, very kind of her to hold down the paper, think she thought it was going to roll up and be thrown across the room for her.