Princess is really the only thing I have been working on this past week. New school term has started so everything else has gone to pot!
I did pass, with good grades, the two units I took last term, so this time I am feeling a lot more confidant. This time around I take three, this will take me to half way through the course. My plan is to be finished by August 2008. I am really enjoying the courses I am taking, but am certainly feeling overwhelmed by the work at times. So I am going to try to get well ahead early, but that involves an awful lot of reading, and Princess is not good reading knitting. I only have one thing on the needle that is good reading knitting, so that has been winning some attention.
Anyway. To Princess, I have been following
Jeans
comments on the Princess, she is going at great speed again. She has run into all the same issues I have had with the centre, which is so very comforting in it's own strange little way, I think Jean is now sorted as to how to decrease a few of those border stitches, I certainly wish I had thought of it sooner than I did. She will be able to spread to decreasing out a bit more than I did.
I had enough stitches for 13 repeats of the centre pattern on the border, picking up one every row. At 7 repeats I realized that 13 repeats would make the shawl way too big. So I have to pick up 2 stitches every row now to decrease the shawl down to ten repeats. I finally decided on ten once I got to repeat 9, it is becoming very clear that ten is likely the maximum you would want to do.
From top to tail, when I stretch her out, she is almost arms length, which means that she is approaching my height. I still have a ways to go, then the edging!
Anyway, I got some pictures a few days ago, at the end of repeat 9.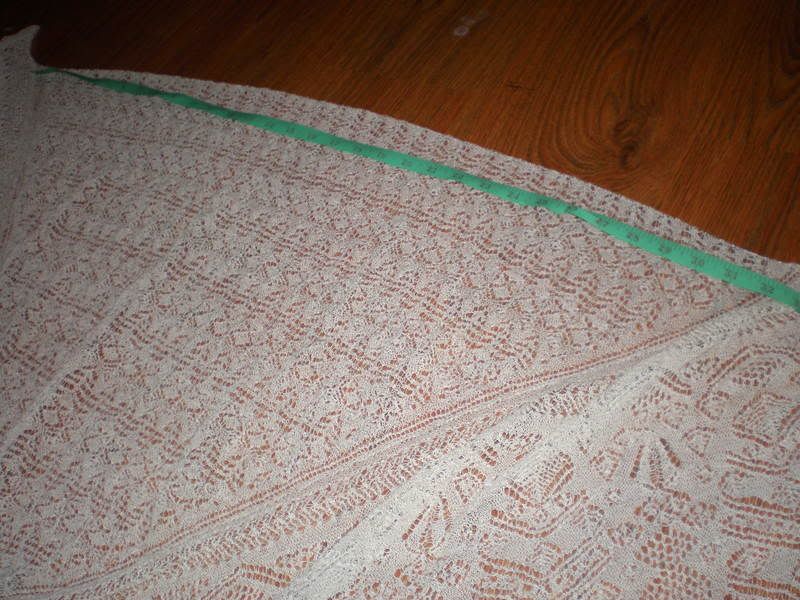 Since then I have added a few more rows, I am now at 55 rows left to do, total! I see my weekend dance card is filled already. I know I will be knitting like a crazy person until that bit is finished, one of those speed up to slow down times. I know, it's pointless I am going to be rushing onward to finish this part, it's a milestone after all, and a mighty big one, but once I hit the edging again I will be slower than a snail again for a good few repeats, at least until I get into the swing of the pattern.
Never mind that anyway, how exciting is it for me to be almost there, well I can hardly contain my excitement! But I have to, I have about 75 pages of heating instruction to read, then I have to go weave some on some pretty little table runners I am working on, the Princess might see me later.
Comments,
Laritza, I am glad you found me too, I love your blog, your knitting is simply amazing, and I am glad that we are able to talk a little more freely here about projects than on the HK list, I love the list, and want to keep it as it is, but miss some of the banter with more open groups. Can you imagine if we all just started nattering away on that list?
Fleegle, Jane, Miss Alice, be sure to ask any questions you have about the Princess, I am glad to help out if I can.I am sure I will have tons of them on the WRS. Fleegle your knitting is stunning too, you think things out a lot more than I do, I still tend to depend on patterns way too much, but am getting away from that pretty quickly. I am gathering experience pretty rapidly now and need to start thinking for myself.
I did finish pafuglehale, I just need to block that now.
I am still working on a secret something.
Katherine will be five in two weeks, so that particular event has a few knitted things on the go too, nothing terribly interesting though.
Anyway, the girls got back to school last week, so here is a piccie of Katherine looking super cute on her first day, Elizabeth had already been back a few days at that point.
Elizabeth also lost a tooth last night, she doesn't want to hand it over to the tooth fairy so she got no money for it.