The Princess is now flying off the needles, after my fight with the phildar needles I went looking for Inox, as suggested by Sharon Miller, I couldn't get any of them, and being stuck in a snow storm my options were limited to the store I was in.
I found Pony 30 cm 2mm needles.
I have knit on these, the horse power behind them is awesome, blinding, mesmerizing, simply mind boggling.
I have knit a lot.
First an apology to Jane, I said I would post yesterday, but I kept hearing this loud demanding noise coming from the area of the Princess, I couldn't resist the call.
This photo is from last sunday, The needle on the fabric was supposed to represent where I have knit from since I picked it up again a few weeks ago. The needle position isn't quite right, towards the right of the picture is more accurate where as at the left it droops down too low. I you can see the greying area above the needle, the is roughly where I have gone from, I got a few rows on the knitpicks before it broke, then went to the grey needles. A thought just came to me, while the grey area may well bug the crap out of me, it is also like a timeline for my knitting, like rings in a tree, only now I hope I don't have anymore potentially damaging marks on the shawl to tell the tale.
This is just the expanded version of the previous photo.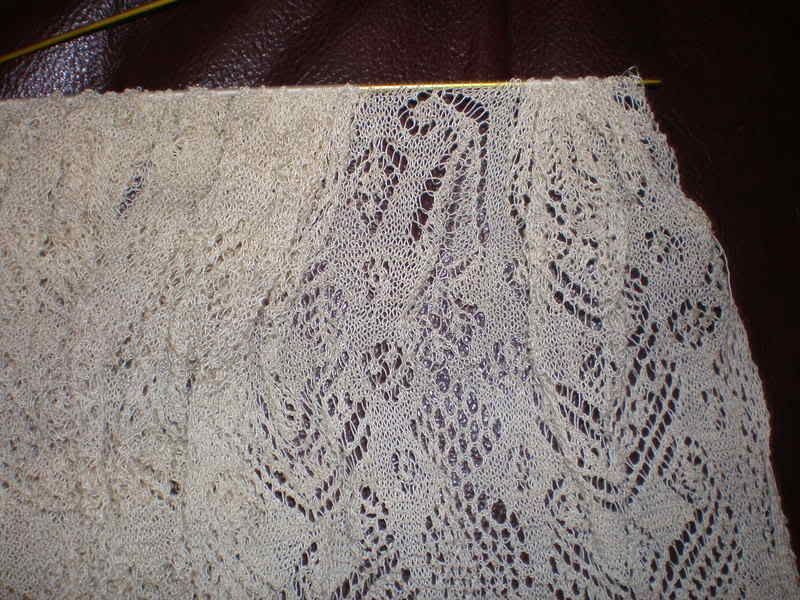 This though, is today's up to date progress report. See the little paisley like motif, that is right near the top of the border, I am at row 193, a plain knit row, I haven't done one of those in so long! I really enjoyed it. I have 27, count em, 27 more rows to go, then some plain garter, then the insertion! Woo hoo, happy dance, the end is in sight for the border, I do have to remind myself every once in a while just how much further I have to go. This puppy is huge even after the border, that is no small triangle that goes inside the border, then edging after that.
This is the whole lot bunched up on the 30cm needles.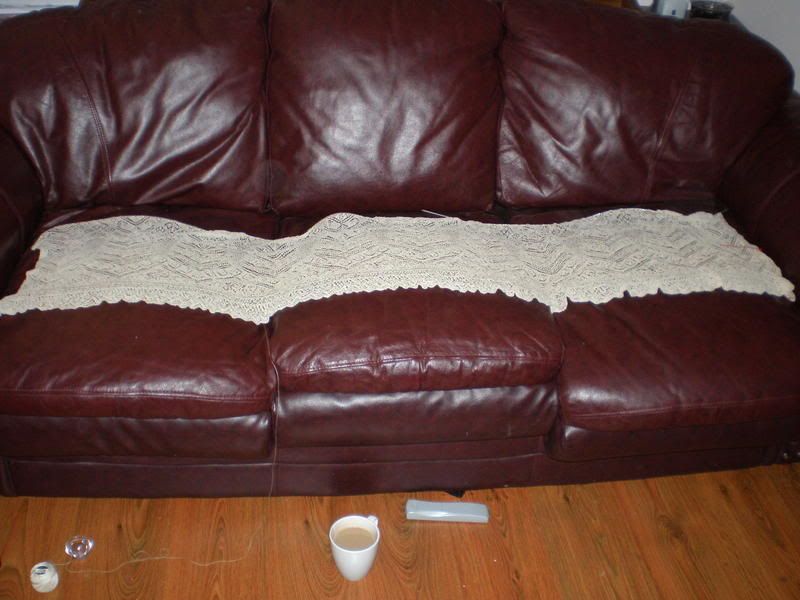 I had to see for myself last week just how big this thing is, I couldn't get my mind around the size of it, so needed a visual, well there it is, the whole length sat out on my three seater couch, all 64 inches in length, just sat there, falling limply to the cracks of the cushions, no stretching, no blocking no real attempt to spread it out. I won't try this again, all those open ends made me very nervous. Three circulars, one 24" and two 32" circ's.
Enjoy.