So After all the book talk, I thought I would share what I am reading right now. I love Egyptology, that and Japanese history are my favourite two histories, specifically. I love history, I watch as much as I can get, and read what I can. Christian Jacq's books are amazing, this is the third series of his I have read, and for as much factual history as you can read, you never actually get the feeling of being there, being in the time, the smells, the senses, the people, Jacq's books bring that to you, and they are factual books, these aren't some cooked up fairytales. My other favourite on Egypt is
Paul Doherty
, his books are also based on real events.
This book arrived in this lot of packages I received finally last week. They all arrived in one day, it was great to have so many boxes sat on the doorstep for me.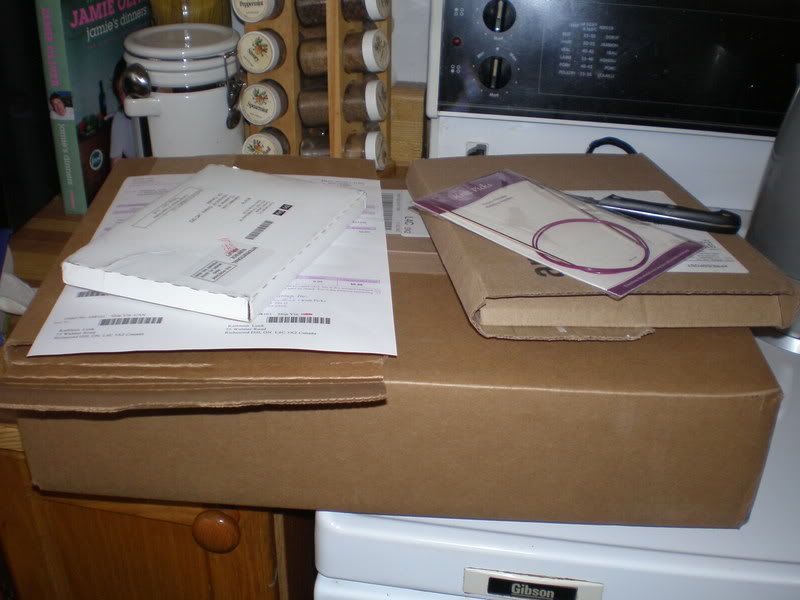 As you can see my knitpicks needle finally arrived.
I haven't used it on the precious Princess, I can't think of a break happening again now. Now that I have come so far.
An insertion, completed!!!! Not very good pictures of it, but I want to wait to get a bit more of the centre knitted before I see how it really looks. It's quite exciting.
I have been reading
Jeans
blog for a while, on and off, but she recently posted on the HK knitting group that she was back at the Princess after a long break, because of a break!!!!!
She has really jumped back into the fire, and is working on all cylinders getting it knitted up now.
I have taken a little more than a week off the Princess, just to do other stuff, and am working on the Roza socks from interweave magazine. They are supposed to be for Eliz on wednesday, but not looking terribly likely now. I will of course try.
Elizabeth is 9 on Wednesday, can barely believe it, she got her ATV on Sunday and promptly flipped it, I of course did the mandatory screaming fit at Ron, that this is exactly why I didn't want her having an ATV, but she got back on and only ran into one more car......