Well, all seems to be right again, my stress levels have far reduced since my rather stressed sounding post a few days ago. I think I have got to the point with the studying now that if it isn't in there now I will never know it by tuesday.
So much knitting and spinning has been going on.
When we were in Nova Scotia I picked up a spindle and some fluff at the fisheries museum, I love the spindle, and am using the fluff that came with it. There should be enough fluff for a pair of socks if all works out well. There was two balls of white roving and one colourful ball, I have spindled the whole ball of the colour and almost all of the first white ball. This is by far the most amount of drop spindling I have ever done.
I did finish clue 5 of MS3 on the Friday it was released, but this week i am taking it slower, still having a number of rows left to do on clue 6. I still only have a photo from the last clue though, and it's not good, so I may as well wait to post the picture of clue 6 finished.
Princess is really the only other thing I have been working on this past few weeks, so have a few piccies to share of that again.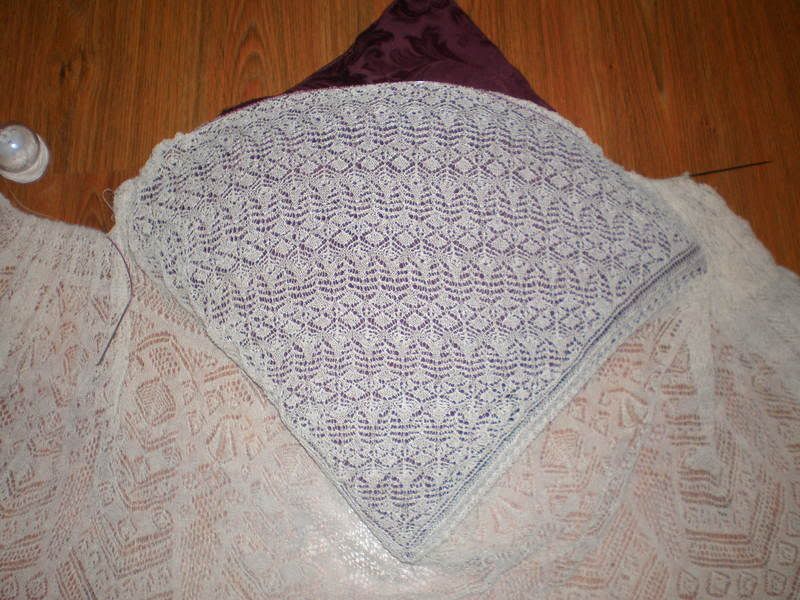 She has grown, so much so that I am concerned about the size, all of a sudden the shawl got big, so big that I pinned it out last night and did some measuring.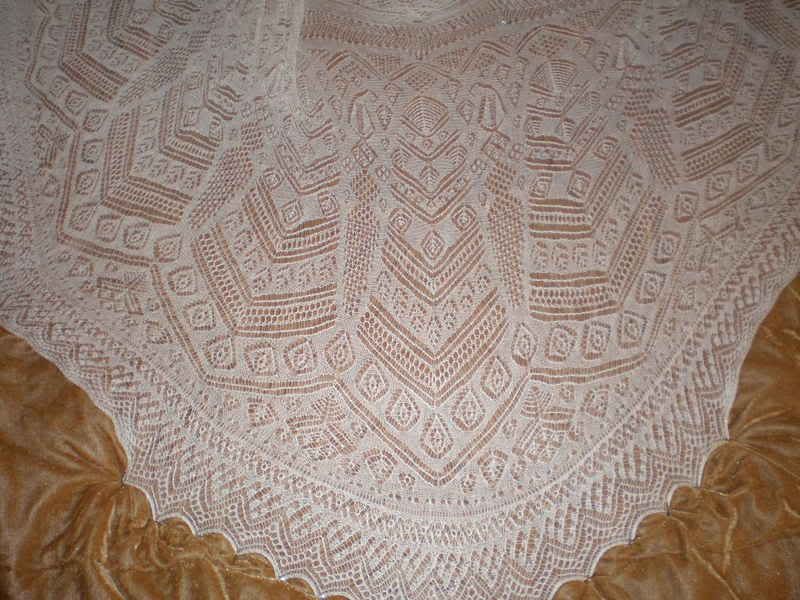 Only slightly stretched out the border measures 26 inches, including edging.
I think (my memory appears to be shot) the centre so far measures 24 inches. The edging alone is in the 2 inch area.
Sharon's dimensions finished were 64 inches in the centre. So far I am running at about 50 inches.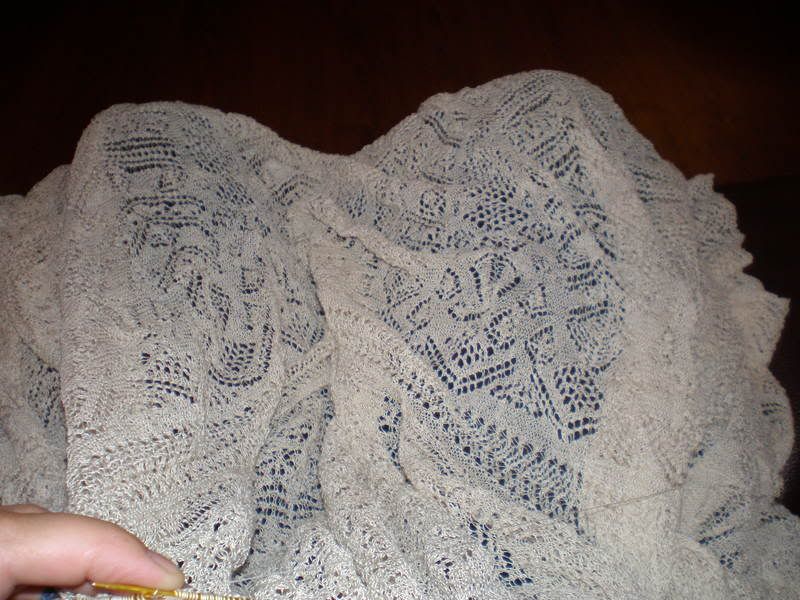 Like I said, all of a sudden she got big! That's me sitting normally knitting, the centre is half way down my lap, the border is well past my knee's.
Anyway, the rate she is growing at is rather alarming, I don't want to do all that work to end up with a monster of a shawl, so I think I have to pick up edging stitches more frequently now, it's supposed to be one a row, but I want to reduce by about two pattern repeats in the next 5 so have to start picking up 2 stitches on some rows. I want to try to spread it out more evenly than trying to do it all at the end, so think I should start now I am almost at repeat 8.
Edit, ok so I figured out that each pattern repeat is about 4 inches, at the 50 inches so far, and 7 repeats done, I need 3 more repeats and the edging, to make 64 inches. I might err on the side of larger may be better and go for one more repeat after that, but I also have to include one last repeat of the little fir tree thingy that I think Jean referred to as a Dalek! That will put me at about 69 inches. I think I have to decide soon though so that I can balance out the pick up rate of the edging. 69 inches is taller than me, by a little bit, maybe ten repeats would be better, 64 inches is about 5' 3", even with a roll at the neckline to reduce the length a little that would be almost as tall as me! Yikes, if I do do ten repeats I am looking at starting the edging pretty soon, how exciting!
And just because its still my favourite feature of the shawl, here is the laurel leaf insertion dressed up a little.
K