I was going to wait until the big event, to put a name with whom I am talking about but I still haven't heard anything yet, and she is supposed to be here tomorrow.
My sister is due to have her baby tomorrow, and I am fed up of calling the baby Lily/Ruby, hair colour is going to determine her name. my sister is a red head, and so far she hasn't produced a red haired child, but the hopes are all on this little one. If she is a red head obviously Ruby is the name.
I have been so busy making this child clothes and blankets that I had to put a lot of other stuff aside. I had put my deadline as a month before she was due to get everything posted to the UK in time, well Katherine's surgery fell on that exact day, so things got shuffled a bit and I was still late finishing everything and getting it posted, let's hope she isn't waiting for the parcel before her big arrival. My sister will be a hippo.
Anyway, here are the rest of the things that got posted to her along with all the other bits I had made that I posted about a few weeks ago.
This is a EZ surprise jacket, slightly different from the original, stocking stich based with a little bit of lace. Made in Koigu, with hand made glass buttons from a wonderful Etsy artist. I will post more about her later. The little hat is a lacy vine hat from Knitting daily, that thing is sweet, I could make lots of them. I should have modeled it on a baby doll, but couldn't find the doll I knew it would fit right.
This is a jacket made in sumlime, a wonderful little jacket that obviously knits up quickly, the sublime yarn is exactly that, a real treat to knit with.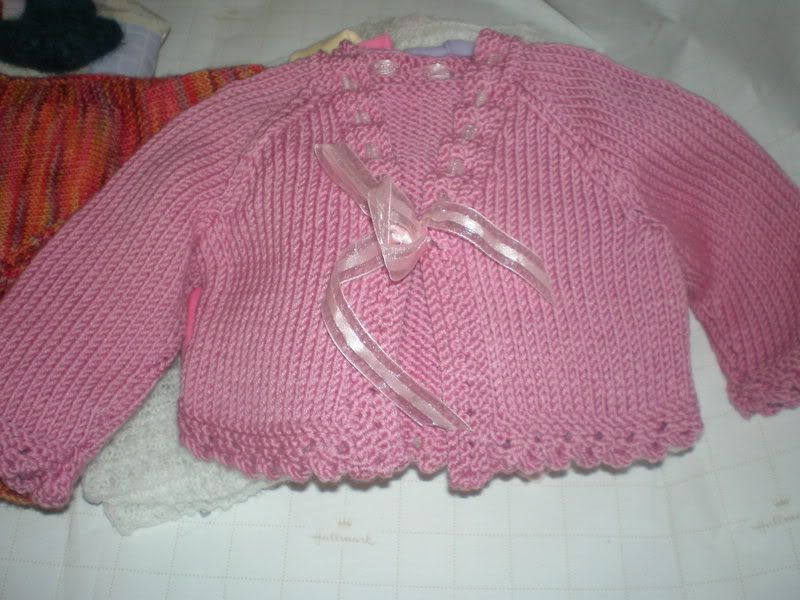 What handmade package would be complete without a hand made card. I saw this as a freebie on a cross stitch magazine, from the UK no less, and knew I had to make it for Baby.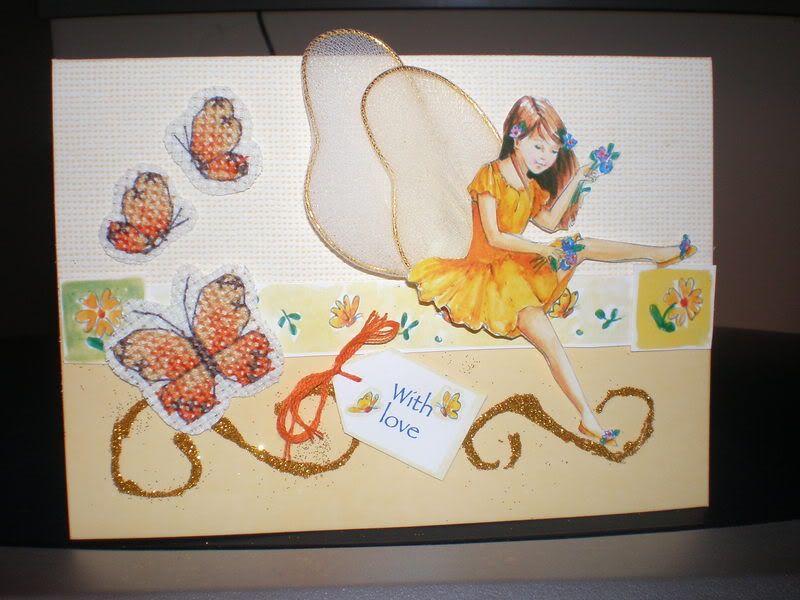 My girls are both so sweet, Elizabeth hand felted a little teddy bear for baby, and Katherine insisted I send her favourite baby book to her. This didn't help with the cost of the shipping.
Her book was a Noddy book, which of course also originally came from Britain, it was sent to her by her great grandmother.
This baby will be living in the lap of luxury in those little cardigans I made for her, and there is more being made already for bigger sizes, but Koigu and Sublime are definitely on the list again.
There was one other cardi made but I neglected to get a picture of it. I wasn't overly keen on it anyway, it looked way too wide.