Some pictures of recent things that I never got around to actually blogging about, in other words catch up time.
A few weeks ago Katherine came to me with a set of needles and a ball of sock yarn and said "teach me to make socks" Kodak moment, unfortunately I didn't have a camera on me. I was almost in tears she was so damn cute.
She has, since she was about 18 months old tried to knit, each attempt getting her closer, this latest attempt sees her almost fully forming a knit stitch.
Check out that concentration.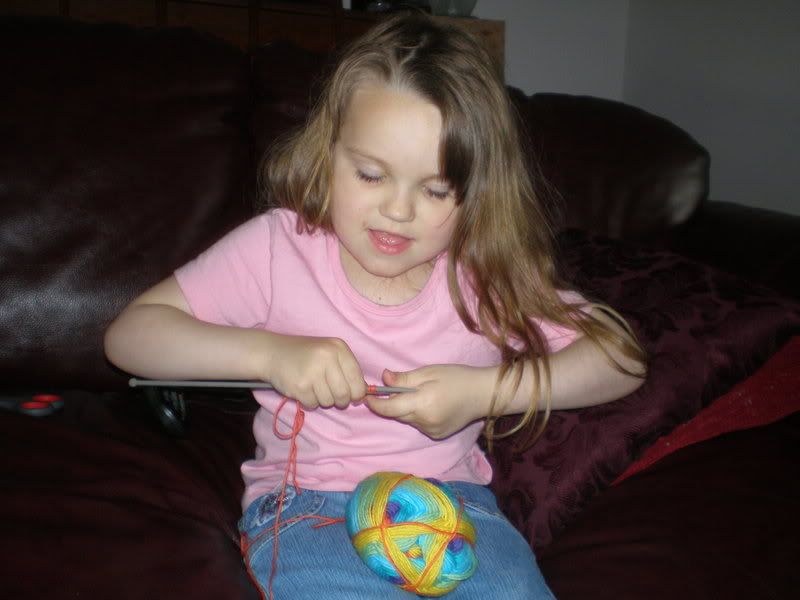 She is still trying, but doesn't like too much instruction from me as she thinks she knows everything now.
These are the buttons I ordered from a lady on Etsy. I will have to find a link to her.
I can't say enough about this woman, she was wonderful, she worked to what I wanted, size and colour, and came through amazingly. She put up with my slow response and indecision.
In the end I loved the buttons so much that when she showed me three sets, two white and reds for me to chose from, I decided I wanted the three sets instead of the two.
And look at the gift she sent me!!!! I love it, but am not sure what to hang it on as I only wear a single necklace, and am more than comfortable with it, I may have to save it for special occasions.
She posted quickly, it arrived safely and promptly.
Her service was outstanding, and I WILL do business with her again.
In April at the guild we did screen printing as the meeting workshop, Sandi Luck one of the members daughters came and showed us how.
What a fun project!
These are the items I got to take home, all of the designs were made by the guild members.
Thats enough for now, the next post should be up to date.
K