I am busy, busy, busy, busy as a bee, what with this, and that, and everything else.
Knitting, cross stitching, crocheting(not), weaving.
Too much going on really. I have ton's of pictures, but need to get them organized, so will try to get that done here, if only for my own peace of mind.
Busy thing the first.
If you haven't already heard about it there is a KAL going on for the third Mystery stole. I made the first one two years ago, joined last year but didn't actually make it as I was even busier this time last year. So I promised I would actually KAL with this one.
It's lovely, so lovely already that I am contemplating a second one, I am knitting the first in Misti Alpaca rose colour I think.
The second one if I start it will be white or black with beads.
End of clue 1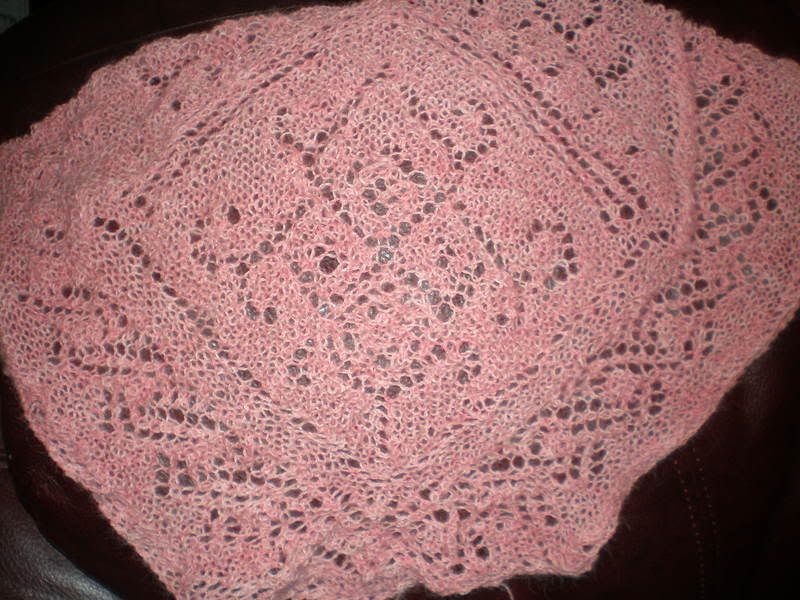 End of clue 2.
Thing the second.
The thing that has been occupying so much of my time is the Mystery X with Chatelaine, the cross stitch.
I started in April, so was already three months behind.
I caught up one month finally in June.
Month one
Half way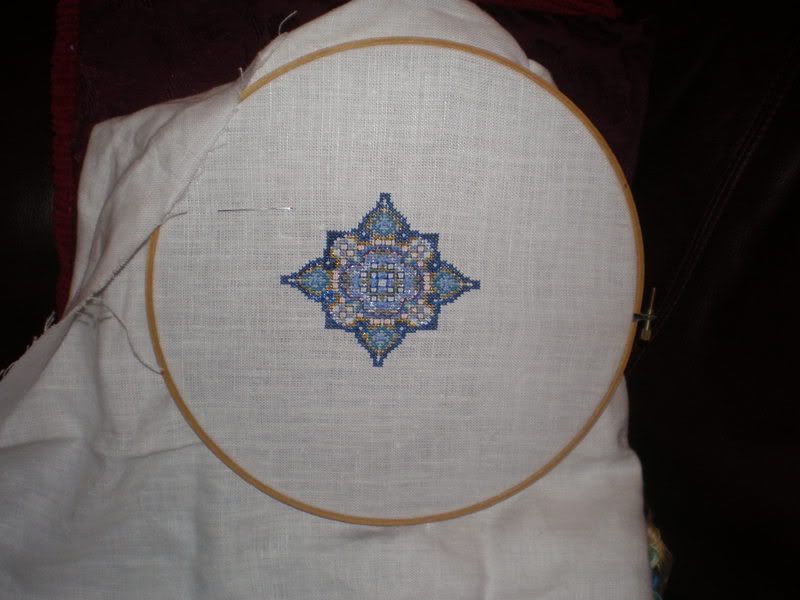 End of month 1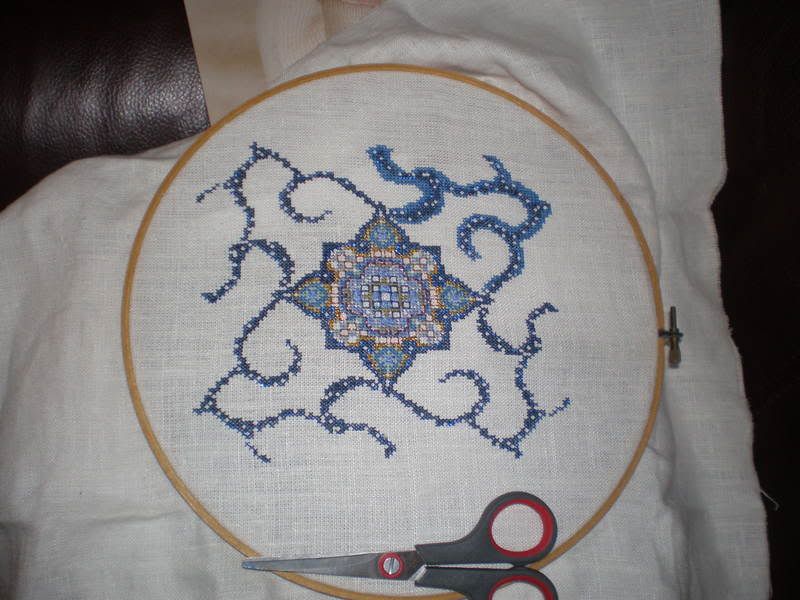 Part way through month 2
Bit more of part 2
Part two finished and 3 finished.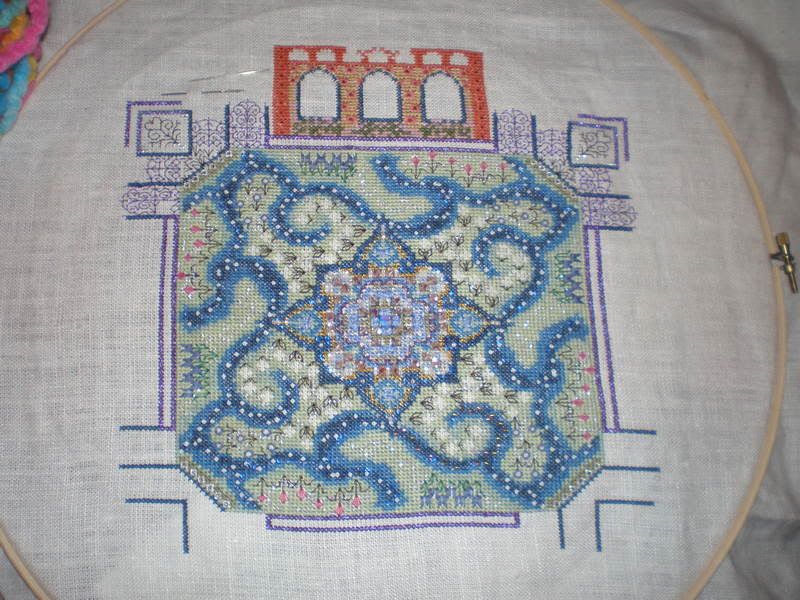 This is where I am now, working part 4 and 5 at the same time.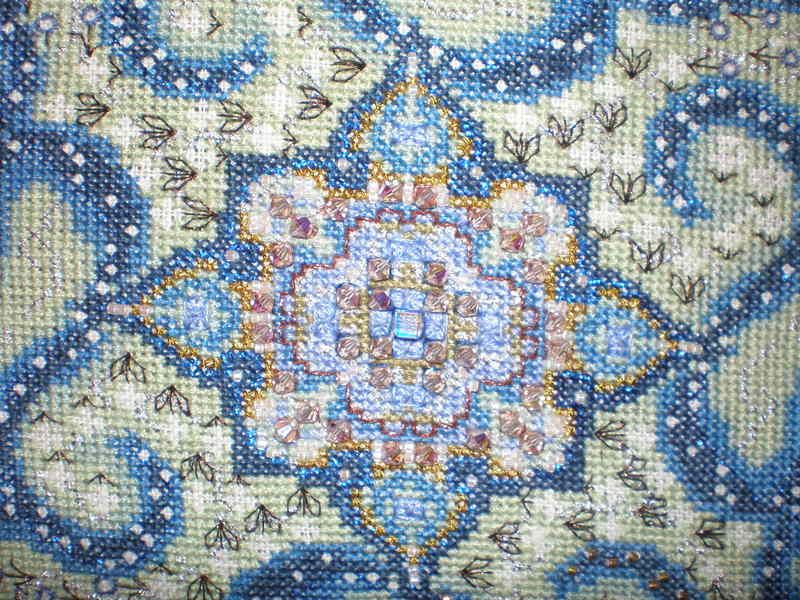 I also got my beads and started to add them too.
Thing the third, crochet 88 snowflakes, no advancement on that, at all, I am stuck at February.
Finally, all the lace other than MS3.
Raku Suri stole
Still working on panel one, there is a few errors in the chart, so i am slowly trying to work through this and correcting the chart as I go. Wool used is a Kertzer mohair, in a colour I think looks like Raku pottery.
Forest Path stole, I have no good pictures of this yet, as I am still early on in it, due to the nature of entrelac it's tricky to get a piccie!
Princess still stalled, but it is getting closer to the top of the pile as I worry about finishing it by November.
Oh, and lots of cotton spinning, no matter how much I do, it never seems to get bigger on the bobbin, I must have a good 1000 yards on it, but am still at about half a bobbin. Of course that 1000 is in my opinion, it's probably way less than that. I am thinking of winding half onto another bobbin and plying, just to see how much is on there already, that and the fact the twist is already probably set in since it's been on the wheel so long.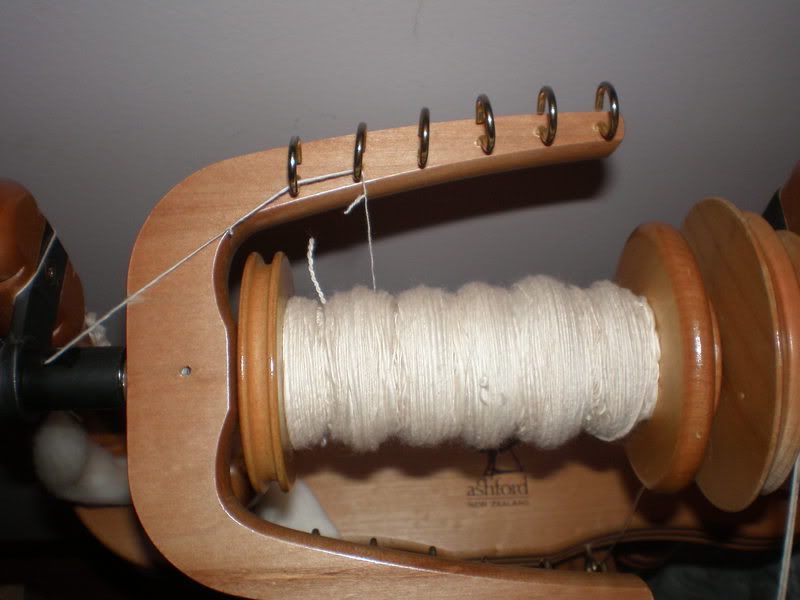 Weaving, I almost forgot.
I borrowed the 8 shaft loom from the guild, finally did my my first 8 shaft project. While debating cutting off the first item I spotted a threading error, that convinced me it needed to come off so that I could fix the error.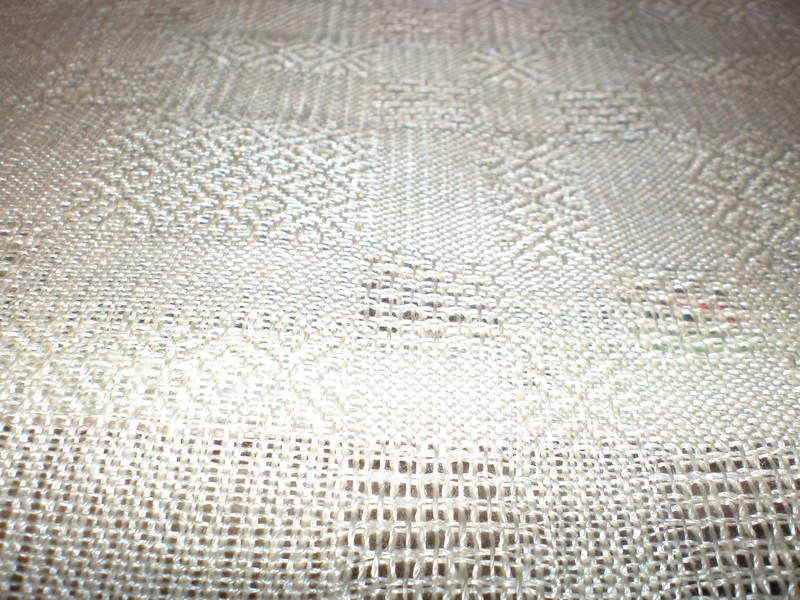 I love this last picture, it makes the linen look like old linen, from a mummy or something.....